LIGHT TOWERS
The HiLight range of light towers were designed to offer the widest choice when it comes to finding the light tower that is right for your application. We provide multiple range of industries with a flexible and dynamic set of lighting options, while addressing all aspects of efficiency and safety. You can also be assured of the robust build quality and compact size for which Atlas Copco is globally recognized.
We have really put our innovation stamp on LED technology. The lenses in our LED light towers have a very special optic designed specifically for construction and mining applications.
This innovative, fully directional, LED lens design means we maximize the light coverage and reduce "lighting waste". A single HiLight tower can cover an area of up to 5.000 m2 with a 20 lux (brightness) average – ensuring a brighter, safer and more productive site
LIGHT TOWER MAKES
Offering run times of up to 32 hours, an extended lifespan, minimal maintenance and low operational costs, the compact HiLight Z3+ is powered by a lithium-ion battery and provides enhanced illumination for metropolitan construction sites, outdoor events and industrial areas. Zero noise during operation and the absence of engine emissions ensure full environmental compliance in urban locations
The HiLight Z3+ features a high luminosity lamp assembly comprised of 4 x 160 W dimmable LEDs, with a life expectancy of 50,000 hours. Combined with specially designed directional glass optics, the floodlights provide optimal 20 lux light distribution over a 3000 m 2 illumination area. The LED lighting units are supported by a hydraulically elevated, 5-element vertical mast, certified wind-stable up to 80 km/h, with a maximum operating height of 8 m.
Extremely efficient, the HiLight H5+ demonstrates exceptional fuel consumption as well as offering the best luminosity. With 4 LED floodlights each projecting 350W of light, the HiLight H5+ can illuminate an area of 5.000 m2.
Easy to transport, the model's compact size means 10 units can be moved on a standard 13-metre truck.
The HiLight V4 offers increased serviceability with wide wing doors and all components easily accessible. Environmental considerations have also been taken into account, with a frame design that prevents oil, fluids and fuel from leaking out and contaminating the ground.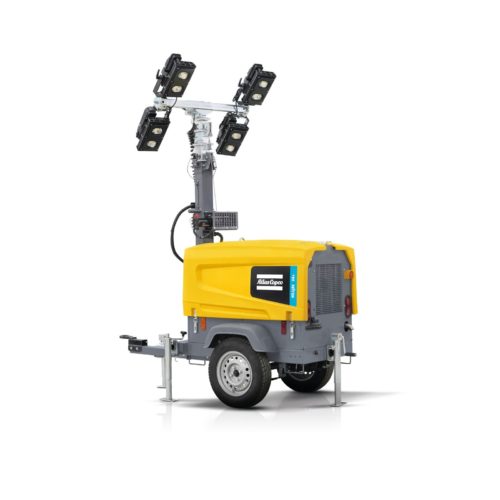 These electric plug & light solutions provide flexible lighting options for a wide range of applications. The HiLight V3+ come with a robust steel frame with PE bumpers. These bumpers are designed to the same standards as the HardHat® Canopy.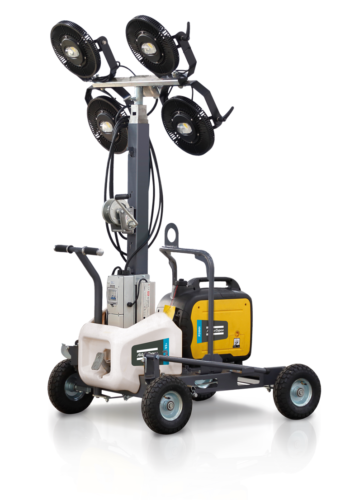 Supplied with a special lighting optic, covered by an integrated polyethylene housing, you can be assured of no burn out and a longer lifetime. In addition, great performance comes from the unique floodlight that spreads light 360 degrees, giving users a larger illuminated area compared to traditional balloon style towers.