COMPRESSORS
GA WorkPlace Air System delivered ready for use. No need for a separate compressor room. Low-noise operation, compact size and integrated air treatment equipment. Integrated options significantly reduce pressure drops to save energy.
GA series is ISO 9001, ISO 14001 and ISO 1217 compliant. Long and trouble-free life at the lowest operating cost.
Reduced lifecycle costs thanks to the use of a superior screw element and a high efficiency motor. VSD reduces energy costs by 35% on average.
The compact, integrated design of GA 5-500 compressors includes internal piping, coolers, motor, lubrication and control system – all supplied as a ready-to-use package. Installation is fault-free and commissioning time is low. Simply plug and run.
| | |
| --- | --- |
| Capacity FAD l/s | 8,4 l/s – 1 410 l/s |
| Working pressure | 7,5 bar(e) – 13 bar(e) |
| Installed motor power | 5 kW – 500 kW |
| Capacity FAD | 30,2 m³/h – 5 076 m³/h |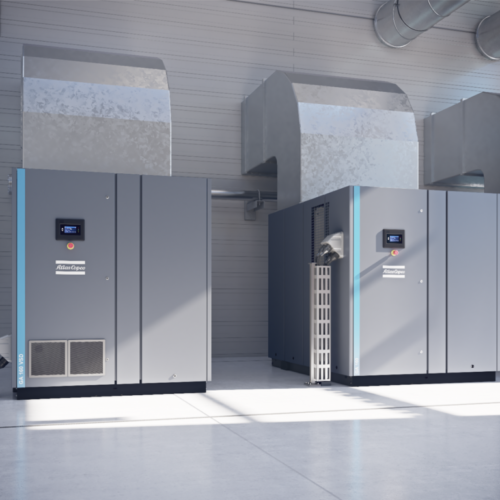 LE/LT compressors are exceptionally reliable, with the lowest operating temperatures in the industry, and offer quality air with low oil carryover. Built with durable and high-quality materials, they ensure quality performance and a long product lifetime.
LE/LT offer low operational costs and are easy to maintain, as components and services points are easily accessible.
The LE/LT compressor is ideal for customers who have limited space requirements. The compressor block, directly coupled to the motor, is manufactured using lightweight materials with excellent cooling characteristics.
LE oil-lubricated for single-stage compression.
The single-stage oil-lubricated reciprocating compressor allows filtered air to enter both cylinders through the inlet valve. The piston is driven forward through the connection rod attached to the balanced crankshaft. Maximum operating pressure is 10 bar (145psi) and capacities range from 3.4 up to 31.7 l/s at 50 Hz, 8.3 to 79.8 cfm at 60 Hz. Air compressed in the cylinders leaves through the outlet valve when the pressure reaches 10 bar (145psi).
| | |
| --- | --- |
| Capacity FAD l/s | 3,1 l/s – 37,2 l/s |
| Working pressure | 10 bar(e) – 30 bar(e) |
| Installed motor power | 1,5 kW – 15 kW |
| Capacity FAD | 7,6 m³/h – 133,8 m³/h |
Operation in high-ambient temperature environment or at high-altitude is not an issue for ZL lobe blowers. The cooling system and integrated safety and start-up valve contribute to trouble-free operation during the lifetime of the blower.
Easy installation
Safe time and money thanks to the easy and flexible installation of the ZL lobe blower. Thanks to the small footprint and the compact design., this machine can be quickly and easily integrated in your existing compressed air system.
The positive displacement principle of the ZL tri-lobe blower has proven itself already for many years within tons of low pressure applications, such as pneumatic transport, wastewater treatment, and in chemical applications as a very reliable and stable technology for round the clock operation in the harshest environments.
ZL is available in a variety of configurable models. The customer can choose between a purely mechanical unit using dial gauges for pressure reading or the high-end solution with integrated VSD inverter and Elektronikon® controller.
| | |
| --- | --- |
| Capacity FAD l/s | 5 l/s – 2 767 l/s |
| Capacity FAD | 20 m³/h – 10 000 m³/h |
| Working pressure | 0,3 bar(e) – 1 bar(e) |
| Installed motor power | 0,55 kW – 315 kW |
The new 8 Series compressor range from Atlas Copco is the result of over a decade of continuous development. For the first time, it's possible to transport behind a normal passenger car, with no special driving license, a compressor that can produce up to 5 m3/min of air, with a full size fuel tank, aftercooler and generator all incorporated into a compact and lightweight package.
This is all made possible by the latest development in our pioneering air element design, meaning we can produce a compressor up to 150kg lighter than comparable models. However, we understand that this means nothing without efficiency. Efficiency can mean many things, such as: reduced service time, fuel consumption or increased utilization. The 8 Series ticks all the boxes when it comes to delivering outstanding performance in all of these categories.
XAS 27 – 97DD (7-12Bar) APP
XAS38 Kubota, 71cfm/7bar
XAS68 Kubota, 135cfm/7bar
XAS 97 Deutz, 190 cfm/7bar
A utility compressor's footprint is at least 10% smaller than any comparable unit.. Every utility compressor can easily be integrated on a truck or tucked away in a corner. All service point are at one side of the machine and you can stack the compressor up to 3 levels high.
Simplicity, speed and long service intervals. With spin-on filters and single-side service design, you can maintain your compressor in less than an hour, without the need for special tools.
More features as standard. Unrivaled efficiency and fuel economy. Designed for ambient temperatures between -20°C and +50°C, and a corrosion-free canopy.
Some XAS BoX models come with PACE technology as standard. This electronic pressure regulation system brings a wider pressure range to cover more applications. PACE increases your utilization while helping to save on fuel.
The XAS BoX is design for the toughest working conditions. With a standard operating temperature range of -10°C to +50°C and a strong undercarriage, this robust compressors guarantees years of reliable operation.
Thanks to the patented FuelXpert system on most models, you can save on fuel. The engine speed is adjusted to the air demand, which means the compressor also consumes less fuel. Particularly at partial load, the benefits are substantial.
XAS 138 Kubota, (PE)-250cfm/7bar
XAS400 Cud (M) 401Cfm/7bar
XRHS650 Cud (M) 657Cfm/20Bar
A DrillAir compressor offers the perfect harmony between pressure and flow and puts you in full control of these parameters, while saving fuel. When it comes to efficient drilling, there is no such thing as a one-size-fits-all. Depending on the depth of hole and the size of hammer, the right compressor makes all the difference.
Choose the right product for your core business and get the flexibility to adapt to changes in drilling depth and hammer size. A DrillAir is easy to move, easy to operate and easy to service. The whole compressor fits on one truck with the drill rig, the new Xc4004 controller gives you a wealth of functionalities at the touch of a button and a DrillAir's service intervals stretch up to 1000 hours and those of the engine to 500 hours.
DrillAir X1300 (M) WAGON – 1235Cfm/30bar – 1378Cfm/15bar
DrillAir XRYS1150 SUP (M) – 1150Cfm/35bar
Our large portable air compressors meet your needs for high volume air at medium pressure. Booster manufacturers find them invaluable as source air compressors and they have become indispensable machines for rental companies.
Powered by reliable, Stage V compliant Scania diesel engines, this large compressor range are suitable for all your demanding applications such as heavy-duty drilling, quarrying, shallow water well drilling, deep-hole drilling and large diameter pipeline cleaning. All models are available in versions that meet the latest exhaust emission and noise directive criteria.
Efficient, Stage V Scania engines
ECO-mode (optional): 50% fuel saved when no air is needed
3-step filtration
Xc4004 controller – our most advanced controller
Predictable maintenance costs: standard warranty covers parts within 2 years or 4000 hours.
XATS1200 PACE (M) -1223Cfm/8.6bar-1102Cfm/10.3bar XAVS1800 1700cfm/10bar – 1440cfm/14bar (WUX)
XAVS1800 CD ACWS-1700cfm/10bar-1440cfm/14bar
The TwinAir™ is especially designed to offer you the highest volume of compressed air per square meter and to be the most robust, versatile and safety enhanced air supply unit on the market. Atlas Copco's expertise in compressors, combined with the inhouse developped element; makes the TwinAir compressor that provides the highest air flow per square meter.
Atlas Copco's Twinair compressors are a package of two oil-injected rotary screw compressors, powered by two liquid-cooled, six cylinder turbocharged inter- cooler diesel engines. The compressors can be used combined or seperately from each other, increasing the versatility. We offer 2 models: a single stage 12 bar, and a two stage 25 bar Twinair.
The TwinAir is enclosed in a DNV compliant container, offering save handling both during transport and installation. During transport, the TwinAir can be handled as CSC certified container cargo. All models are compliant for offshore usage.